Bengaluru-based aero defence equipment maker Radel Advanced Technology (RATPL) is eyeing huge opportunities in the defence sector this year and is developing a series of Indigenous technologies for the Indian Air Force (IAF).
"An Electronic Line Replaceable Unit (LRU) for the Dornier (maritime reconnaissance) aircraft is under development and has successfully undergone functional testing at Hindustan Aeronautics Ltd (HAL). It is now in the qualification testing phase", the company's managing director, G. Raj Narayan, told IANS.
Also, the company is awaiting integration and flight trial reports from the IAF for an electronic bomb-release controller used on fighter aircraft. "Once this is completed, the unit will enter serial production," Narayan said.
RATPL has increased the life span of the Jaguar fighter aircraft by indigenizing the distributor used on its rocket pod. The IndianSME  has used modern electronic systems to replace the original, which is now obsolete.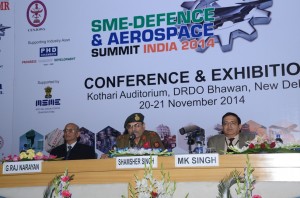 "This unit has undergone successful certification following into serial production," Narayan said.
The company is also working on the repair of a high voltage power supply component of the Indian Navy's helicopters.
"The project involves reverse engineering and design of a new power supply module using current electronics technology. The project is nearing completion and the finalized unit will be delivered to the Navy in a couple of weeks," Narayan said.
The company is certified by CEMILAC (Centre for Military Airworthiness Certification) and has executed 20 Indigenization projects for HAL and the IAF.
It has already designed, developed and supplied a number of ground rigs for testing the avionics on board the indigenous advanced light helicopter (ALH) and the Sukhoi Su-30MKI combat jet. Multiple numbers of these have been supplied to HAL and are operating across IAF bases.
"Repeat orders for these are being periodically executed by us to meet the needs of HAL, "Narayan said.
The original article appeared on Business Standard.