The USD 400 billion opportunity
The catch-phrase today in Indian Industry is 'Make in India'. The estimated domestic demand for Electronics products alone, is of the order of USD 400 billion by 2020. Every entrepreneur in the manufacturing sector is aspiring to take a slice of this pie.
The Challenges
However, if Make in India is to become a reality, there has to be a focus on the product manufacturing sector. China today, is a giant economic power, because it is a manufacturing hub for almost everything across the globe. Unless we are self-sufficient in Manufacturing, we can never hope to match, leave alone overtake, our neighbour.To achieve this, as has been highlighted by many experts, several areas need urgent attention – such as our infrastructure, labour laws and tax laws. But by far the most important initiative needed is in making our engineers employable. This is the greatest hurdle in the realisation of the goal of 'Make in India'. Without competent engineers to drive the programme, how can the campaign even take off? How will we create our own products?
One step further – from Make in India to Design in India
In the Aerospace and Defence sector, how will India transform from being one of the largest importers of defence equipment, into being self-sufficient in defence products and then onwards to become an exporter? We need to make our engineering graduates skilled not only in Manufacturing but in Design.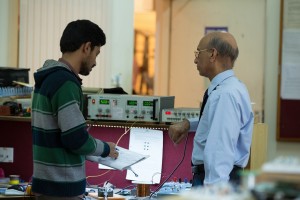 Tweet this: We need to not just Make in India, but Create in India, Design in India and Innovate in India, so as to create and own all the intellectual property ourselves.
For this, we need to skill our engineers not just as computer operators but as intelligent designers and engineers in practice.
Why do we need to skill engineers?
There has been a lot of emphasis of late, on 'Skilling India'. Most of the initiatives under this program are focused on skilling the workforce at the technician level – electrician, machine operator, etc. There is no recognition of the crying need for our fresh engineering graduates to be made job-ready with hard-core engineering domain skills. Reports suggest that out of about 1.5 million engineers graduating from more than 3500 engineering colleges across India in 2014, only a shocking 4 to 7 % of engineers are actually fit for jobs in the core engineering sectors.
Tweet this: Studies also indicate that employers are not satisfied with the fresh graduates they recruit, and that 'Graduates seem to lack higher-order thinking skills (analyzing, evaluating and creating)'.
There is a huge demand from the core engineering industries for practical engineers who have hands-on experience. We need to close this large gap between the existing education system and the actual industry requirement.
Today, while we find many training institutes for software, even computer hardware (assembly & troubleshooting) and networking, there are very few training schools for engineers in core engineering disciplines, especially Electronics and Aerospace Engineering Design, and none that include robust processes, documentation and project management. Industries spend several months training them on these essential skills.
In view of the need faced by Engineering students and the Indian Manufacturing Industry, Radel (a well-known name in the Aerospace and Consumer Electronics sectors) has embarked on a novel initiative – Drona, school for engineering practice, that mentors and trains graduates and fresh industry recruits in a real industrial environment with exposure to exciting live projects, to make them industry-ready.