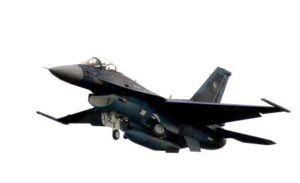 The 'Make In India' slogan announced by a refreshingly new and agile PM of our country two years ago was lapped up by many Indian enterprises that were starved of economic activity. It was almost like a mouth-watering feast of desserts being brought to a buffet table with a million hungry people waiting for a meal. Then came the pronouncement of encouragement to indigenously manufactured equipment, platforms and arms for the Indian defence forces already starved from lack of capital acquisitions from foreign companies for over a decade. Next came the DPP2016 with the inclusion of a special category 'IDDM' to pronounce that Indian Designed, Developed and Manufactured items would get the highest priority in the defense procurement process. This was the cherry topping the dessert!
And now comes the announcement of 100% FDI in A&D, closely followed by the American offer of shifting the F-16 production line to India. So, is this the final serving of the customary 'Paan beeda' or is it a hangman's noose after the last fulfilling meal for the Indian industry?!
I must have attended at least ten defense related conferences and seminars across the country in the last 12 months. In every one of them, one fact that came through very clearly was the mirage of Transfer of Technology from foreign OEMs. Senior representatives of the Armed Services, the DRDO and DPSUs, openly conceded that no ToT of any value was ever achieved over the last five decades. It was almost unanimously agreed that the only way towards military self-reliance was through indigenous R&D, design, manufacturing and lifecycle support. Everyone pointed to the success of ISRO in the face of sanctions and denials and how this could be achieved in other spheres of defense preparedness. It is therefore worthwhile exploring various scenarios that could emerge from the allowance of 100% FDI in A&D.
First of all, it needs to be appreciated that A&D industries operate with low volumes with production often taken up in batches. Hence, the employment potential is certainly limited compared to consumer/industrial product industries. When it comes to production of military platforms themselves (aircraft, helicopters, tanks, armoured vehicles, etc.), only 10 to 15 of these are made in a year. Almost all the systems and sub-systems are outsourced to a global supply chain that comprises specialized competences. Hence, even if a foreign platform manufacturer sets up an Indian operation, he would still import the systems and parts from his global supply chain. It is worth noting here that the systems and equipment constitute more than 70% of the lifecycle costs of the platform. Further, it is the systems that undergo periodic upgrades which are supplied by the OEMs. Hence, there is not much to be gained by the mere fabrication of the outer shell of an aircraft or tank if the expensive systems are also not manufactured in India. For this to happen, we need to create the complete ecosystem of Tier-1, Tier-2 and Tier-3 supply chain of Indian companies and these are far more important than the Integrator company. In the absence of such a holistic approach, we would only help foreign OEMs in increasing their participation in Indian defense procurements. This would go completely against the goal of 'Self-reliance'.
It is seen that foreign OEMs who establish their Indian subsidiaries very often assemble their products using CKD kits imported from abroad. Since the imported parts and assemblies are produced on a global production scale, they would cost relatively lower than being manufactured here in smaller volumes. However, they are still marked as 'manufactured in India' just as Korean and Taiwanese consumer products assembled in India. Further, since this only involves screw-driver technology, there can be no benefit of either exposure or value addition to Indian employees. On the other hand, with no design and development costs to be incurred, these products can be priced lower than what Indian companies can deliver, thus killing Indian R&D and design organisations, including DRDO and DPSUs.
With long lifecycles of 40 years, all military platforms go through at least a couple of systems upgrades. If the foreign OEMs are included in the IDDM category just on the basis of their manufacturing plant located in India fulfilling the stipulated 60% indigenous content clause, then all the upgrades will have to automatically go to them with no participation of either genuine Indian owned companies or individuals. This is again a lost opportunity for Indian defense enterprises. This would ultimately lead to the demise of even the few Indian enterprises that have already shown signs of meeting the challenge of IDDM.
Almost all spare parts of platforms and equipment are now being imported from the OEMs abroad. Without a strong drive towards indigenization of all parts and systems, more and more spares will be continued to be obtained from abroad, channelized through the Indian subsidiaries with a 'Made in India' label. This serves neither the hunger for technology nor exposure to manufacturing.
In the unlikely event of a foreign OEM willing to manufacture a major chunk of equipment, systems and assemblies in its Indian factory and using them for meeting Indian defence requirements as well as exporting them back to the parent country, this would most likely involve use of automated machines and processes with little employment potential. While a small number of operators and technicians would find employment opportunities, they could gain some insights into modern manufacturing technologies. However, to interpret the nuances of such processes and technologies, leading to improvement of Indian design and development capabilities, it would need a more holistic exposure with smart and competent engineers involved in the operations. Would the foreign OEM do this?
Finally, coming to the offer of Lockheed Martin to shift their manufacturing plant of the F-16 fighter aircraft to India, it is a well-known fact that the F-16 was first manufactured for the USAF  forty years ago in 1976 with subsequent versions being supplied to various NATO countries. The manufacturing plant is already planned for closure and so it is evident that the company is offering to relocate a scrapped and obsolete plant to India. This once again confirms what we get from foreign OEMs!
In the final analysis, does 100% FDI sound like a double edged sword or a dagger used for 'hara kiri'?