As of 2013, aerospace and defence (A&D) offsets are reported to have generated business worth $3.5 billion. While it is true that in value-terms, most of this is accounted for by a relatively small number of SMEs, it is undeniable that a whole range of Indian SMEs now have genuine exposure to global markets and standards.
The fact that 'build to print' type of orders are growing for Indian SMEs shows that this segment of the A&D market has now matured to fulfill stringent global aerospace standards while remaining competitive on cost.
 Given that A&D majors across the world are looking to pare costs by up to 20%, this is something that is obviously attracting the attention of many global players. Overall, although SMEs have benefited by engaging global value chains, it is now time for them to raise their capabilities to higher levels of value addition. This would enable them to penetrate deeper into the global market. As a by-product, it would also enable them to participate in a massive indigenisation push under the Make-in-India scheme.
Among today's MSMEs, we see strong capabilities in precision CNC machining, electronics manufacturing, design of mechatronics, industrial product design, hydraulic valves and actuators, CNC sheet metal fabrication and forming, precision plastic moulding including design of moulds, software development, etc., not to mention the specialised advanced skills possessed by MSMEs already integrated into the supply chains of A&D establishments. The few Indian MSMEs doing business with global A&D companies are already certified AS9100 and are able to meet global quality and delivery standards. Indian firms in the automotive sector have established a solid international reputation for a while now. Some SMEs in India have already achieved noteworthy quality stamps by using practices like 5S, TQM, and JIT through their concurrent involvement in the automotive components industry.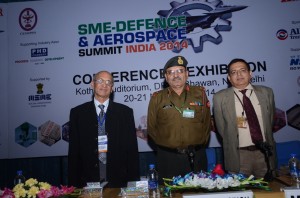 The success of such SMEs has greatly improved the overall image of Indian SMEs. This has prompted global companies to look for outsourcing to India, with the obvious advantage of lower costs.
 Now, the need is to elevate such SMEs to the A&D sector through orientation and exposure to the specialised stringent quality, procedures and standards. There are quite a few success stories involving SMEs in the A&D sector. One SME has indigenously designed and developed weapons control equipment for the Jaguar fighters of the IAF and many ground test jigs that would otherwise have been imported. A few other items indigenously developed by SMEs are Flight Data Recorder for fighter aircraft, precision hydraulic servo valves, multi-function displays (MFD),  that form part of sophisticated aircraft systems, wire harnesses, etc. In spite of these achievements, SMEs are understood to be meeting only 20% of the indigenous content in our defence equipment. This points to either their under-utilisation or that the lead integrator, be it a DPSU or a large private-sector enterprise, withholds all the high value-addition to itself.
 Tweet this: "The Make-in-India campaign adds a new dimension to the indigenisation programmes in the Indian A&D sector and increases the relevance of the SMEs manifold".
 This opens up opportunities for SMEs to learn from global experience and applying their new-found skills in the massive opportunity for indigenisation. The strong competencies across a wide spectrum of SMEs need to be leveraged via clusters for the A&D sector. In the past decade, the odd aerospace SEZ may have been formed in one or two locations. However, these do not comprise a group of industries with domain expertise across the entire spectrum of domains required for complete design and manufacture, either of the platform or its systems. Thus, the need is to move up the value chain from one-dimensional SEZ specialising in machined and fabricated parts, to the creation of multiple holistic A&D clusters encompassing all domains, across structures and systems that include avionics, hydraulics, pneumatic and electrical domains.
These are yet to be formed. It may come as a rude shock to many that a wide variety of screws, nuts, bolts, rivets, etc. are imported from abroad even to this day, although hundreds of SMEs have the capability to meet this requirement. This fact points to a lack of holistic approach to indigenisation and self-reliance.
However, even as SMEs have come a long way from being 'garage' operations they need serious government support in terms of priority lending dovetailed to mitigating the risks associated with design, engineering and R&D efforts. Innovation and design capabilities, though crucial to stay in the game in the aerospace sector, might entail large expenses, relative to the size of SMEs. Timely availability of capital on favourable terms will make future SME growth prospects much brighter.
Further, there has to be greater integration of SMEs with domestic OEMs in the A&D space. This would greatly strengthen the delivery capabilities and market reach of A&D SMEs in India. Currently, two SME exchanges are being set up to facilitate easier access to capital and an 'India Opportunities Venture Fund' worth Rs 5, 000 crore is being created through the Small Industries Development Bank of India. While these are necessary steps in the right direction, more needs to be done if the Make-in-India push has to deliver a globally competitive Indian A&D sector.
The Original Article appeared on Financial Express