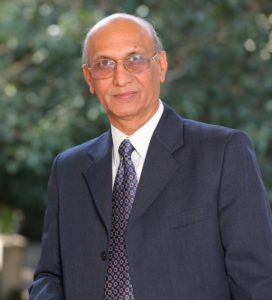 G Raj Narayan, entrepreneur and the founder of the Bangalore-based Radel Group, holds a master's degree in electrical engineering from Indian Institute of technology (IIT), Madras. He was part of a 4-member team that built India's first indigenous cockpit simulator when he was a design engineer at Hindustan Aeronautics Ltd. (HAL). A veteran behind many small but key innovations in the defense arena, Raj Narayan believes it is time India went beyond "technology transfer" which only ends up in our getting dependent on other nations for years.
Guiding the group of talented and dedicated engineers with his innovative ideas for indigenization and obsolescence management of defense systems, Raj Narayan has 45 years of in-depth design experience in aerospace and electronics engineering and technology.
Innovation has been part of Raj Narayan's journey right from his childhood. As a high school student, he built model airplanes, which is what motivated him to join Hindustan Aeronautics as a management trainee in 1969 and served in its Design dept. for 10 years. The Radel Group founded by Raj Narayan in 1979, has interests ranging from indigenous design & manufacturing for aerospace and defense sectors (http://www.radel.co.in), digital music instruments to niche skill development. Each company in the group caters to one of Raj Narayan's passions.
Classical Carnatic music has been another avid passion and he is regarded as an expert flute exponent. The well-established innovative enterprise for Indian electronic musical instruments, Radel Electronics Pvt Ltd (www.radel.in), was born out of his own need for such products, to help in practicing music. Radel musical instruments are now a household word wherever Indian music is practiced or performed.
The group's Drona School of Engineering Practice is a timely initiative that focuses on creating skilled manpower especially for the defense and aerospace sectors (http://www.drona.radel.in). Born out of Raj Narayan's deep interest in teaching, and the realization that our fresh graduate engineers lack the practical skills to fit readily into industry, Drona Centre for Excellence has a comprehensive training programme which these engineers undergo, to emerge fully industry-ready.
Raj Narayan has played multiple leadership roles at ELCIA (Electronics City Industries Association) and ELCITA, the Industrial Township Authority entrusted with managing Electronics City, one of India's foremost high-technology enclaves situated on the outskirts of Bangalore. He has been heading the MSME Cluster initiative in Electronics City, Bangalore, which has received both central and state Government funding.
He has been conferred many awards and honors – Govt. of India Special Recognition Award for R&D 2009 (MSME), Karnataka Kalashree Award of Govt. of Karnataka 2001, Ananya Award (best Senior Musician of Ganakala Parishat Musicians' conference 1997, Rajyotsava Award of Govt. of Karnataka 1996, Young Electronics Engineer Award, IMM-Binatone Award 1987, Sur Mani Award of Sur Singar Samsad, Mumbai 1987, First Prize in All India Music Competition of Akashvani (All India Radio) for Classical Flute 1968, etc.